During the Summer of 2017, I have attended the Art of Visual Story Telling with Miles Watkins, in West Hollywood.
This opportunity allowed me to complete something that has been on my "Bucket List" for along time and that was to create a mini documentary about my father. James C. Hoke who served in the 1st Marine Division in World War 2 on Guadalcanal.
This is his story of how he killed a Japanese soldier and how he captured a Japanese flag. I have completed a student film, "My Father's Flag" https://youtu.be/sCsbEnf2cbs
A few years ago, I went on a trip to New Orleans, LA to attend the AMVETS National Convention. While there, I visited the National WWII Museum. This truly wonderful and informative exhibit presents an overall view of WWII that is both astonishing and remarkable, made even more so, by 2 minute "first hand" accounts, oral histories of people, both veterans and civilians who were there. These accounts of what they witnessed are truly moving and inspiring. All aspects of the war are presented, all sides of the story, the good, the bad and the ugly. It is an impressive museum and when I came to the section about Guadalcanal, I was overwhelmed by what I saw there.
My father, James Clarence Hoke, a Kansas farm boy, was 17 years old when he enlisted in the U.S. Marine Corps.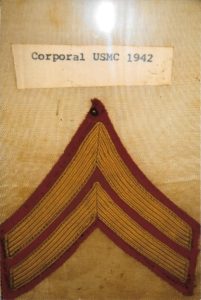 A proud member of the First Marine Division, he was sent to Guadalcanal in August of 1941.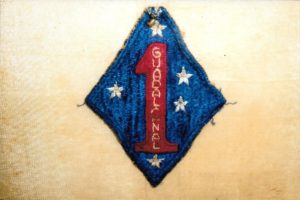 He was in hand to hand combat, where he killed the Japanese Army "Superior Private" flag bearer.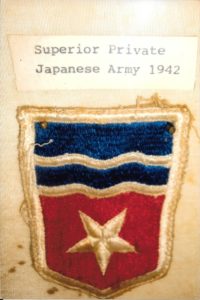 This Japanese flag was something I heard about my whole life and when my father passed on,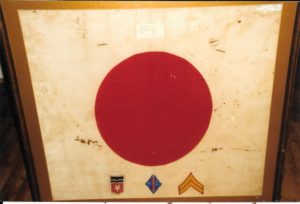 he had left me the flag.
This moment, back in 1942, was the defining moment of my father's life. If he had lost the battle, I would not be here.
A year later he was sent to a military hospital near Little Rock, Arkansas to recuperate from his war wounds and tropical diseases. He met my mom, Blanca A. Romero, on a blind date, and they were married shortly thereafter. Mom served in the Women's Army Auxiliary Corps (WAAC) when she first met my father.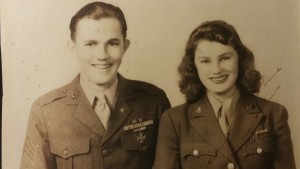 I never really fully understood until I saw the Guadalcanal exhibit there at the WWII museum. My father loved the Marine Corp more than anything. He retired as a Master Gunny Sergeant after 25 years of military service.
The visit to the museum made me think of his sacrifice and what he had to do to survive, really make me think and to appreciate the "Greatest Generation." My father passed away, before the museum was built but in memory of my father, his Japanese battlefield flag has been donated to the National WWII museum. He was so proud of that battlefield flag.
My generation, the baby boomers, are lucky; we are the children of these brave men and women willing to make the ultimate sacrifice for the freedoms we all enjoy in this country. How lucky are we. My regret is that I was not able to share a visit to the WW2 museum with my parents.
This is a plea to all you people out there with friends and family who served during WWII, take the time, if you can, and honor your loved ones by taking them to the National WWII Museum.
Listen to their stories, try to understand what they are saying, appreciate and honor them for their service. They changed the world and made it a better place for all of us to live. Honor your national treasures, those of the greatest generation and take them to the National WWII museum, you owe it to them. 