Sheryl Shaffer created Veterans Helping Veteran TV, VHVtv, in 1996 as an out reach to veterans in San Mateo County while she was working as a Veteran Representative.
VHVtv is filmed in the studio at the MidPeninsula Media Center in Palo Alto and Sheryl is a Volunteer Producer.
VHVtv is in transition now and since 2015, we have filmed 4 episodes in the Mid Peninsula Media Center's newly remodeled state of the art HD studio: "Women Veterans Alliance." "Veteran Advocates." "Vetsin Tech" and "NPower SF Bay Area."
Sheryl Shaffer is a retired Employment Development Department Job Service Vet Rep.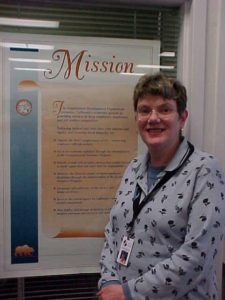 She retired from the E.D.D. in 2004 with 25 years of Civil Service. She attended college on the G.I. Bill and graduated from San Francisco State University, SFSU, 1974 with a BA degree in Theatre Arts. In 1997, she graduated with her second BA degree from Cal. State University Northridge, CSUN, with a degree in Radio, TV and Film.
Sheryl is a Volunteer Producer at the MidPeninsula Media Center in Palo Alto and has won several Western Access Video Excellence, the WAVE awards for community educational access tv, for VHVtv episodes, "What is TBI?" "K. Blackey and the Afghan Scouts" and "U.S. Vets interviews."
She is a member of the Veterans in Film and TV Los Angeles, the VFTLA.
http://vftla.org/veteran/sheryl-shaffer#.WPAndvnyupo
Sheryl is a Vietnam Era Veteran and served as a Personnel Specialist in the Women's Army Corps.