How VHVtv is produced and how you can be a guest on our program..
We invite you to be a guest on the "Veteran's Helping Veterans" television series.  If you would like to be a guest on our show, please contact Producer Sheryl Shaffer at
vetshelpingvetstv@gmail.com.
VHVtv is a Public, Educational and Government (PEG) access series. I am a Volunteer Producer at the Media Center. VHVtv is in transition and creating more content with better production values while we collaborate with others to create videos in and out of the studio.
We film a half hour program at the MidPeninsula Media Center in Palo Alto.
Since I have access to a state of the art HD television studio, I continue the outreach to the veteran community, as a Volunteer Producer.
The first show filmed in 2017 was on January 17, and is about the "Women Veterans Alliance" and Unconferences.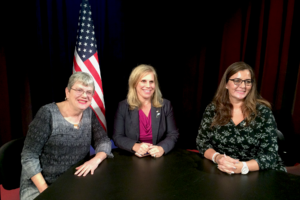 Melissa Washington, Founder of Women Veterans Alliance and WVA Sacramento Chapter Director, Sevrine Banks, are interviewed by VHVtv host Sheryl Shaffer. The WVA are creating 2 events in 2017 called Unconferences. The Unconferences are to empower women veterans by having inspirational speakers and resources and benefits information for women veterans. Also featured are Linda Benoit, Cherie Heyermann, Danielle Marshall, Uta Kavanaugh and Stephanie Shannon. For more information on the WVA, please visit http://www.womenveteransalliance.org/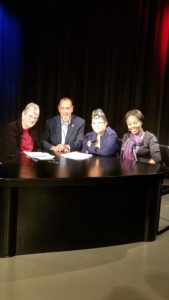 November 2016 program "Veteran Advocates." features guests: James R. Morrison, Carolann Wunderlin and Renee Hamilton McNealy.
There are costs in producing VHVtv. Fixed costs include studio rental, crew acquisition fee and hospitality (food for volunteer crew of 12) and Variable costs are in the post production (editing). Payments are made directly to the Media Center. Either the guests, a non profit organization or a Veteran Service Organization pays the production costs.
We request that guests be in the Media Center studio, 900 San Antonio Road, Palo Alto, CA,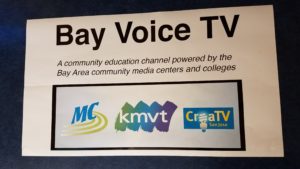 no later than 5:30 p.m.  
It takes about an hour and a half to set up lights, cameras and sound equipment. 
All guests are required to sign a Talent Release.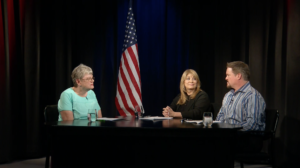 "Vetsin Tech" Co-Founders Katherine Webster and Chris Galy were interviewed 4/20/2016 at the HD studio at the Media Center, Palo Alto, CA.

The Media Center updated the studio to High Definition in 2015. The studio was closed for over 6 months and we filmed our first HD video in April 2015 with "NPower SF Bay Area" Interviews are with Jeanine Cowan, the N Power TSC Program Manager at the College of San Mateo and veteran students Katie Rogers and James Roe.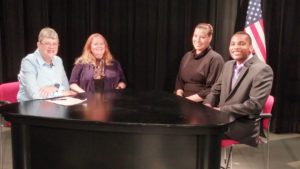 We present individuals and groups that work on behalf of veterans. Vets Helping Vets TV is filmed as a Public, Educational and Government (PEG) community access TV show and is filmed at the Mid Peninsula Media Center, 900 San Antonio Road, Palo Alto, CA. Please read the Producer's Agreement Media Center Producer Agreement
The Mission of VHVtv is to present training, jobs and benefits information to veterans. I continue my work as a Volunteer Producer and am learning as I go. We are creating a talk show/interview/panel discussion series and present individuals and non profits that work on behalf of U.S. military veterans.
No shows are filmed in August and December. The guests and/or non profits or a Veteran Service Organization pay the production costs directly to the Media Center.
We encourage veterans to join a Veteran Service Organization like the American Legion, AMVETS, Disabled American Veterans, Vietnam Veterans of America and the Veterans of Foreign Wars.