Veterans Employment Committee of San Mateo
Veterans Helping Veterans TV, VHVtv is partnered with the Veterans Employment Committee of San Mateo, CA, the VECSM
The VECSM is a 501 c 3 non profit organization as of April 2017..
On April 1996, the Veterans Employment Committee of San Mateo, VECSM, was established. Representatives from various Veteran Service Organizations met and formed a partnership with the Veteran Representative staff of the Employment Development Department (EDD) office in San Mateo, Sheryl Shaffer-LVER, Mike Allen-DVOP and Jim Blank-DVOP. Founding members were Mark Svenningsen, County Veteran Service Officer, Ted Lempert, County Board of Supervisors, Clyde Clark of Veterans of Foreign Wars, John Shannon and Jim Frear, both of the American Legion and Lucy Scarbrough of the Employment Development Department office in San Mateo.
One of the DVOP's, Jim Blank and I went to the Media Center. We pitched the concept to their Executive Director Elliot Margolies. He immediately said yes. Two weeks later we were in the Media Center studio filming our first program. VHVtv is a Public, Educational and Government (PEG) access show. The first program was about jobs for veterans and the Veterans Employment Committee of San Mateo, the VECSM.
Introducing the VECSM 1996. https://youtu.be/LFScd-jKpas
The Veterans Employment Committees are consisted of representatives from all the Veteran Service Organizations such as AMVETS, American Legion, Disabled American Veterans and the Vietnam Veterans of America and of the Veteran Representative Staff of the local Employment Development Department offices. They help the Vet Rep staff by putting on annual Job Fairs. Proceeds from the Job Fair go back into the local community. For instance scholarships, Stand Downs, bus passes, food baskets, clothing, tools and lunches for workshop participants are just a few examples of how we work within the community. We work with the EDD San Francisco/San Mateo Job Service Vet Rep staff.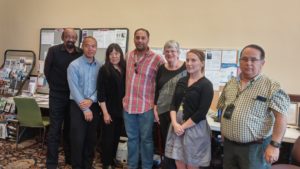 Membership on this committee indicates a commitment to help veterans and addresses veterans' concerns within the community. Committee members can make a significant contribution to a better relationship between unemployed veterans and Employment Development Department.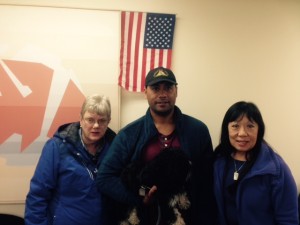 VECSM Officers 2018 -2019:
Chairman: Jarom Vahai
1st Vice Commander, Special Projects: Sheryl Shaffer
Treasurer: Helen Wong
Recorder: E.D.D. Vet Rep
Sgt. at Arms:
E.D.D. Vet Rep: German Alvarado 650.802.5064
Chairman Emeritus: Clyde Clark, Ira Davis