VHVtv, Veterans Helping Veterans TV, is the first veteran-based PEG TV talk show. It started at the Mid Peninsula Media Center in Palo Alto, CA in 1996. http://midpenmedia.org/
At the time, I was an Employment Development Department Job Service Vet Rep in San Mateo. Sheryl Shaffer.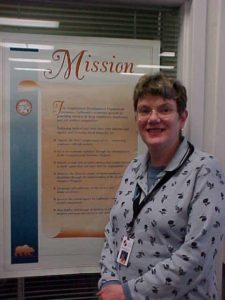 One of the DVOP's, Jim Blank and I went to the Media Center. We pitched the concept to their Executive Director Elliot Margolies. He immediately said yes. Two weeks later we were in the Media Center studio filming our first program. VHVtv is a Public, Educational and Government (PEG) access show. The first program was about jobs for veterans and the Veterans Employment Committee of San Mateo, the VECSM.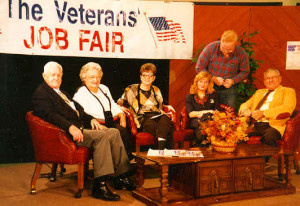 From that point forward, we realized that we had a fantastic way to outreach to veterans to educate them about their benefits and provide supportive services as needed. Interviews are with veteran leaders, veterans service organizations and military supporters and provide a unique way to not only present job services to vets but to educate family members about benefits. I retired from the EDD in 2004.
The original VHVtv sponsors were from Veteran Service Organizations in San Mateo County such as the American Legion Post 409 and 585, Vietnam Veterans of America Chapter 464 and the Veterans Employment Committee of San Mateo, the VECSM. From 2009 to 2013, we received grants from the AMVETS Department of California, to continue to produce our video outreach at the Media Center in Palo Alto, CA.

In 2013 and 2014, our on location interviews about "U.S. VETS" and the "Riverside County Dept. of Veteran Services" videos were sponsored by the AMVETS CA Women Veterans Committee.
Vets Helping Vets TV has come a long way since our first show and continues to improve our production values. We are now able to get out of the studio and do more on location stories and shorter interviews.
Since April 2015, the 2 half hour programs filmed in the HD studio at the Mid Peninsula Media Center were sponsored by the guests.