YouTube recently made a huge change for all content creators and that is the ability to create 1 minute video clips of existing content. This is a big deal for VHVtv because normally we produce our Community Educational Access TV series for the MidPen Media Center in Palo Alto in half hour episodes. Now we can create these 1 Minute Clips highlighting our interviews. We will be posting lots of VHVtv 1 Minute Clips here. It's a lot of fun interviewing people and we have amazing guests on our show and are sharing these great moments with you!
VHVtv Clip # 18 is about the Veterans Resource Center at UC Riverside and is an interview with 2 Veterans Chr!s Ochoa and Will Pines.
https://youtube.com/clip/UgkxI8PipFlwihAiqmJNyz8z0CUvpJov43mX
VHVtv Clip # 17 with Kate Weber, a U.S. Army Veteran and a Veterans Advocate.
https://youtube.com/clip/UgkxCtMqpdGa5A-jn8K4VaMto5oP9Fqlo-Bs
VHVtv Clip # 16 is with co-Founder of Unite US, AnnMarie Halterman, US Air Force Veteran.
https://youtube.com/clip/UgkxTQkc-xCTJcILyUBFFKlWy7Jb6WHnOxbN
Here is VHVtv Clip #15 and it is an interview with Helen Wong, the Commander of AMVETS CA Post 34 San Francisco.
https://youtube.com/clip/UgkxUs5InC2IZFzjCQDcL0j0GKa6aFOOd0Mv
VHVtv Clip #14 is with Elinor Otto, the longest working Rosie the Riveter in her 68 year career! Here are some words of wisdom from Elinor.
https://youtube.com/clip/Ugkx3Hxs29ZogNzgGCvWNXkHubYTC3NwyoXt
VHVtv Clip #13 is with Melissa Washington, the Founder of the Women Veterans Alliance and her outreach to Women Veterans through the WVA Unconferences.
https://youtube.com/clip/UgkxuAWCs0YTRe-jkaJtF1RkwJTG4IJqoNCs
VHVtv Clip #12 is with co-Founder of Uniting US AnnMarie Halterman, a USAF Veteran and Phyllis T. Miller, a USN Veteran and Artist. Phyllis will be presenting her art at the Library of Congress from June 28 to July 1, 2022.
https://youtu.be/i-jR7ajNVkQ
VHVtv Clip #11 features Vietnam Veteran U.S. Army Combat Nurse Kate O'Hare Palmer.
https://youtube.com/clip/UgkxLJwN84E-q1TFznrPIBqY3fbb10wQzLCu
VHVtv Clip #10 is with Karina Passi, a USAF Veteran and a drone pilot.
https://youtube.com/clip/Ugkx72YDB0Mc9XbJHc_DA2eZ6rbXL0BnoTB4
VHVtv Clip #9 is about the U.S Volunteers and how they provide Final Military Honors.
https://youtube.com/clip/Ugkxw1r2_bliMwvuqT6fcAwQBlcPY-5u8HmQ
VHVtv Clip #8 is about Sandy Dee, her Service Dog, London and her non profit organization, A Pawsability4Veterans.
https://youtube.com/clip/UgkxicSskrXaCjaMSq0nMDHKkg92EZW7dfVt
VHVtv Clip #7 Sharing a 1 minute video about Eldonna Fernandez and Baskets & Beads Kenya. Women empowering women.
https://youtube.com/clip/Ugkxstre482EOsjc5DIQJGBYD_MqGU1aixRI
VHVtv Clip #6 is about Da Li Reviera, U.S. Army Veteran.
https://youtube.com/clip/UgkxCxM0F82QI_8b03rBHSE6wq8OLnapzFEB
VHVtv Clip #5 Virtual Interview with Gail Soffer and she is the Founder of the Mindful Veteran Project. Today's 1 minute highlight.
https://youtube.com/clip/UgkxssSNBgEYSU2FK16GkaZMIMCz-cI4DtrR via @YouTube
VHVtv Clip #4 featuring the Underground Scholars and Gregory Sanchez.
https://youtube.com/clip/Ugkx5lsP4oM0A3qlxCgFq95lwqw5SoFzTC0b
VHVtv Clip #3 is about Renee Hamilton-McNealy, U.S. Army Reserves Sergeant Major.
https://youtube.com/clip/UgkxX4HiEmtph25iL_H3VOeBRNhdHvNepNxx>
VHVtv Clip #2 is with Lucy Wong and is E.V. Lu.
https://youtube.com/clip/UgkxP5-8FfDLlklGkv30bc4D6l0ls0rJ4mDB
VHVtv's first 1 minute Clip and is about "Sisters in Arms, Tell Your Stories!" with Lila Holley, a U.S. Army Veteran and author of the Camouflaged Sisters Book series, as she encourages Women Veterans to tell their stories!
https://youtube.com/clip/UgkxTZM2G-hEEPzfokuBRaEVPNerRNX81WId
VHVtv could not create these interviews without our wonderful volunteers: Richard Gonzales, Sandy Dee and Tami Thacker. Thank You So Much for your creative talents!
VHVtv is produced as a Community Educational Access Series for the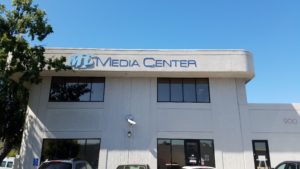 MidPen Media Center, 900 San Antonio Road, Palo Alto, CA. When we film in the studio, our content is created with a crew of 12 Volunteers and 1 paid studio tech.
We continue to film in person interviews beginning in June 2022. Instead of filming half hour episodes in a studio, we will be creating more short form interviews, 10 minutes or less.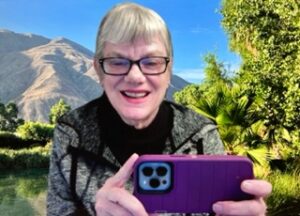 We will be using our iPhone 12/13 Pros and editing on the iMovie. Recently, Apple updated the software and added 20 Story Board Templates and the Magic Movie. It is getting easier to use the iPhone to create short form content. So we are learning as we go and look forward to create more content. Meanwhile, I will be posting daily YouTube 1 minute Clips to share. Thanks for watching and sharing our content.
Now there are 3 options to film: First is in a state of the art HD studio that reopens on July 7, 2022 at the MidPen Media Center in Palo Alto. The second choice is to continue Virtual Interviews via Zoom videoconference. VHVtv's third option is to film short in person interviews. If you are interested in being a Guest Host and filming in the HD studio at the Media Center in Palo Alto, CA or a short 10 minute in person interview, or a Virtual Interview via Zoom, please contact veteranshelpingveteranstv@gmail.com
My name is Sheryl Shaffer and I produce VHVtv as a Volunteer Community Producer. Admittedly, I am not the best with Marketing and Social Media Management. So, if you have expertise in SEO, Word Press, video editing and/or Social Media and Marketing skills and can help VHVtv do this better, please contact us.
VHVtv is evolving and we strive for continuous improvement as we interview incredible veterans who are living a life of service to others and telling their inspirational stories.