During April 2019, VHVtv did an interview with Sandy Dee who presented her non profit "A Pawsability 4Veterans." Sandy and I have been collaborating to create content in our local community. We have filmed 2 VHVtv shows on location and this special episode of VHVtv was filmed at the MidPeninsula Media Center in Palo Alto, CA.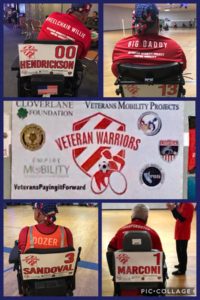 Also features a story about the U.S. Power Soccer Team, the "Veteran Warriors" with William Hendrickson, Johnny Sandoval, Julian Perez and Al Marconi.
This was our second collaboration and we filmed it on location in Hemet, with a Canon Vixia camera, 2 i phones and edited it on the i movie.