Sandy created a trailer for the CVMA Poker Run fundraiser in Norco on Sept. 24.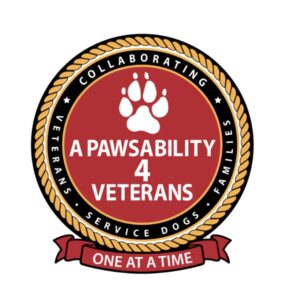 Sandy Dee is a U.S. Army Veteran and the Founder of A Pawsability 4Veterans, a 501c3 non-profit organization. We are partnering in 2022 to create 4 interviews and are planning for the first one.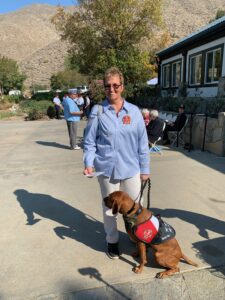 Sandy Dee and her service dog, London.
Sandy Dee has created a trailer about the Combat Veterans Motorcycle Association's Veterans Remembrance Poker Run on Sept. 24, 2022, The motto of theCVMA is Vets Helping Vets.

We filmed our first 2022 on location interviews on February 24, 2022 at the Grand Opening of the Veterans Resource Center at UC Riverside.
Sandy is an Associate Producer for Veterans Helping Veteran TV and during the last few years, we have created 5 VHVtv episodes together.
2022 -The latest VHVtv is about the Grand Opening of the Veterans Resource Center at UC Riverside with the manager of the VRC, Tami Thacker and Congressman Mark Takano, Chairman of the House Committee of Veterans Affairs and Member of the Labor and Education Committee.

2021 – Interview with Navy Federal Credit Union. This was created at our first on location interview since the beginning of the pandemic and we were filming with the UC Riverside Veterans Resource Center – VHVtv Student Interns at the Veterans Expo in Murrieta, Ca. Sandy did the interview off camera and filmed it using her iPhone 12.

2020 – Interview with Lucy Wong. This is the first Virtual Interview we did. Sandy asked questions to Lucy about Scleroderma.

2019 – A Pawsability 4Veterans. This episode was filmed in the state of the art HD studio at the Midpen Media Center in Palo Alto, CA and sponsored by the Cloverlane Foundation.

2018 – Veteran Warriors and the Veterans Mobility Project. This is the first Veterans Wheelchair Soccer games and it was filmed at the Wheelhouse in Hemet, Ca and sponsored by the Cloverlane Foundation.
This video was an Official Selection at the Glendale International Film Festival, October 2019.